Waterslides for Amusement Pools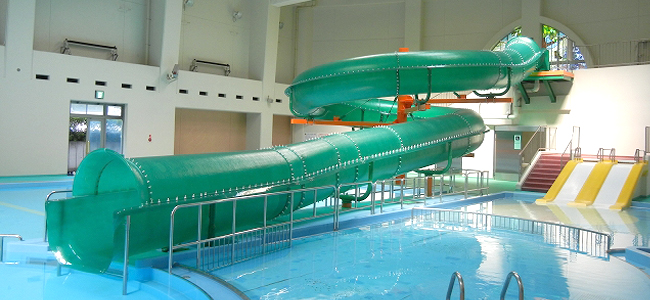 For thrill seekers, AQUA PRODUCT offers spiral (loop) and slalom waterslides. Waterslides are one of the most popular features in most water parks.
Spiral (Loop)
Water flows down in full or half tube-like frame and riders travel down the slide sitting directly on the slide. The inclined loop gives riders thrills and excitement while sliding down the loop. Indoor installation and heated water flow make the slides available all through the year. A start-indoor and drop-outdoor slide design is gaining popularity.
Slalom
Riders slide down along the gutter of molded-FRP rock. A rider feels excitement as if he is rafting down a wild water.
AQUA PRODUCT is a leading swimming pool designer/builder in Japan with over 40 years experience and more than 6,000 successful installation records.
For more information,
click here

Aqua Division
Business Department(East Japan Business Center, Maintenance Group, Environment Engineering Group, Business Cordination Group), Design Department, Manufacturing and Construction Dept

Phone

+81-3-5276-1151

Fax

+81-3-5276-1157

Saitama Business Center

Phone

+81-4-2937-7875

Fax

+81-4-2937-7876

OsakaBusiness Center

Phone

+81-6-6556-6175

Fax

+81-6-6556-6176

West Japan Business Center

Phone

+81-92-481-5188

Fax

+81-92-481-5177