Aquatic Physical Therapy Pool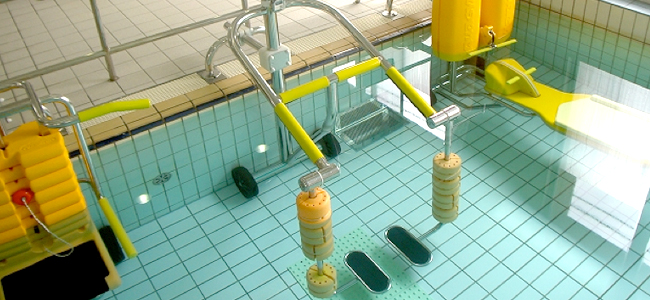 With increasingly rise in life expectancy and of aging population, therapy pools become more and more important venues for people who are involved in aquatic therapy and rehabilitation programs. Aqua therapy helps people enjoy the programs that may be painful in some cases.
Jacuzzi or streaming pool, aqua-gym or aqua-walking pool. AQUA PRODUCT offers a range of therapy pool designs to meet the varying needs of your facilities.
AQUA PRODUCT is a leading swimming pool designer/builder in Japan with over 40 years experience and more than 6,000 successful installation records.
For more information,
click here

Aqua Division
Business Department(East Japan Business Center, Maintenance Group, Environment Engineering Group, Business Cordination Group), Design Department, Manufacturing and Construction Dept

Phone

+81-3-5276-1151

Fax

+81-3-5276-1157

Saitama Business Center

Phone

+81-4-2937-7875

Fax

+81-4-2937-7876

OsakaBusiness Center

Phone

+81-6-6556-6175

Fax

+81-6-6556-6176

West Japan Business Center

Phone

+81-92-481-5188

Fax

+81-92-481-5177