Lazy River Pool – Relax and Enjoy Laid-back Time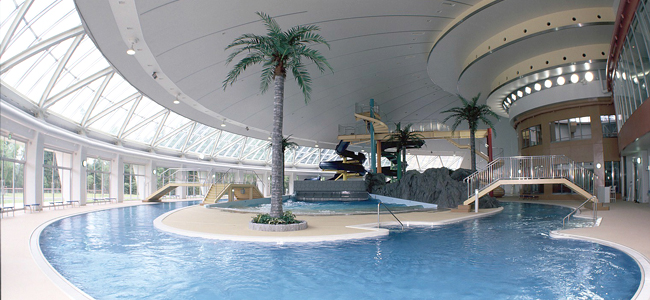 A lazy river pool is one of the most important facilities for amusement/water park operators because its capacity (the number of swimmers per unit area) is much higher than that of any other pool types. Even in high season, therefore, the pool can accommodate and entertain a host of visitors.
The circulator generates a slow current (30 – 35m/min.), just enough to allow visitors gently ride along lying on rafts or rubber boats, as if rafting down quiet stream of a river. Because the pool is generally shallow, it is safer for small kids.
AQUA PRODUCT offers a variety of designs with varying pool width and adding a side stream or waterfall.
AQUA PRODUCT is a leading swimming pool designer/builder in Japan with over 40 years experience and more than 6,000 successful installation records.
For more information,
click here

Aqua Division
Business Department(East Japan Business Center, Maintenance Group, Environment Engineering Group, Business Cordination Group), Design Department, Manufacturing and Construction Dept

Phone

+81-3-5276-1151

Fax

+81-3-5276-1157

Saitama Business Center

Phone

+81-4-2937-7875

Fax

+81-4-2937-7876

OsakaBusiness Center

Phone

+81-6-6556-6175

Fax

+81-6-6556-6176

West Japan Business Center

Phone

+81-92-481-5188

Fax

+81-92-481-5177